We provide safety critical training and assessments for the rail industry. All our trainers and assessors are highly experienced within their area of expertise.
Comprehensive training facilities located at Metasi House in Crewe, Cheshire CW1 3PA.
OHLE Training and assessments including authorised person, nominated person and linesman.
Safety Critical Training ranging from Personal Track Safety to Engineering Supervisor.
SSOWP Planner.
Safety Critical Assessments ranging from COSS to SPICOP.
Small plant.
First Aid Manual Handling for Awareness
We are committed to continually improving and setting high standards.
In 2014 Network Rail have introduced a new competence called the Safe Works Leader and BEMA Rail has committed to Network Rail's training programme for the Safe Works Leader as the new system will become live at some point in 2015.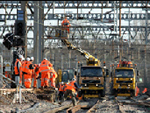 BEMA Rail Training achieved a 'GOOD' grade on its last NSARE 2015 inspection and also achieved a 5 star grade on its last Achilles inspection, which is the highest grade possible.
We have been graded following NSAR Audit to silver which is equivalent to  'GOOD' in learning outcomes with evidence of 99.4% of 3398 learners who have completed during 2015/2016 have achieved their learning goal and achieved competence.
In 2016 the amount of learners attended courses at BEMA Rail was 2128 with a pass rate of 99.5%.
To arrange for training or assessments call us today on: 01270 501821 or email: enquiries@bemarailtraining.co.uk